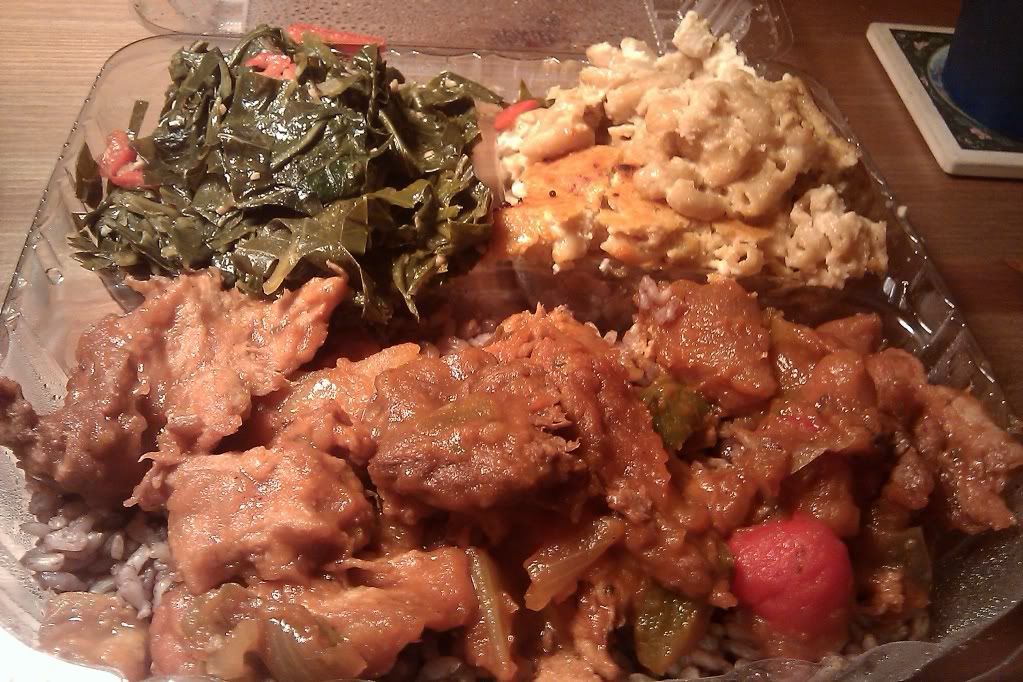 One day last week, I was suffering from a bout of "I'm-starving-but-nothing-appeals-to-me-and-I-don't-want-to-cook." After over an hour of moping around, wallowing in my misery (and hunger), I decided to get carry-out from a restaurant I hadn't yet been to. I searched
vegbaltimore.com
, and decided to go with
Land of Kush
. I'd had some of their food one summer at Artscape, where they were the only vendor to serve vegan food. There were several vegetarian options, but only Land of Kush remembered us vegans!
Land of Kush serves vegan soul food, and their online menu can be found
here
. I had a hard time deciding what I wanted, but eventually settled on the BBQ chick-un (served over rice and black beans), smoked collard greens, and mac & cheese. It was all so delicious. The mac & cheese has a different flavor, but if you eat it without expecting it to taste like Kraft, it's so yummy. The portions are obviously generous, so I had plenty of leftovers for lunch the next day.
On top of the great food, the staff was super friendly and warm and welcoming. Greg, who I believe serves a dual purpose as owner and chef, was helpful in answering my questions about their food. When I came in to pick up my food, he was just as cheerful in person as over the phone.
Land of Kush definitely came to my rescue with this meal.