Thanksgiving has always been one of my favorite holidays. Growing up, I typically spent the day with my dad, and we'd go to either my grandmom's house or one of my aunt's houses. As much as I like eating lots of yummy food, seeing my family has always been my favorite part. Thanksgiving was one of the few days of the year when
everyone
got together - all six of my dad's siblings, all five of mine, and the dozens and dozens of our cousins.
This year, however, I opted to stay in Baltimore with Mom. My (big) little brother came up (with the kittens), and it was really nice. While Thanksgivings are usually loud and crazy, the quiet change of pace was enjoyable. I liked spending the day with just my mom and my brother (and the crazy kittens).
I created a feast. I thought I'd be able to eat everything on my plate, but I was seriously mistaken. That's okay, though, because I've got lots of yummy leftovers for the weekend! I made sweet and mashed potatoes, cornbread stuffing, pumpkin sweet bread, and a variety of veggies. A pretty deprived vegan Thanksgiving, right?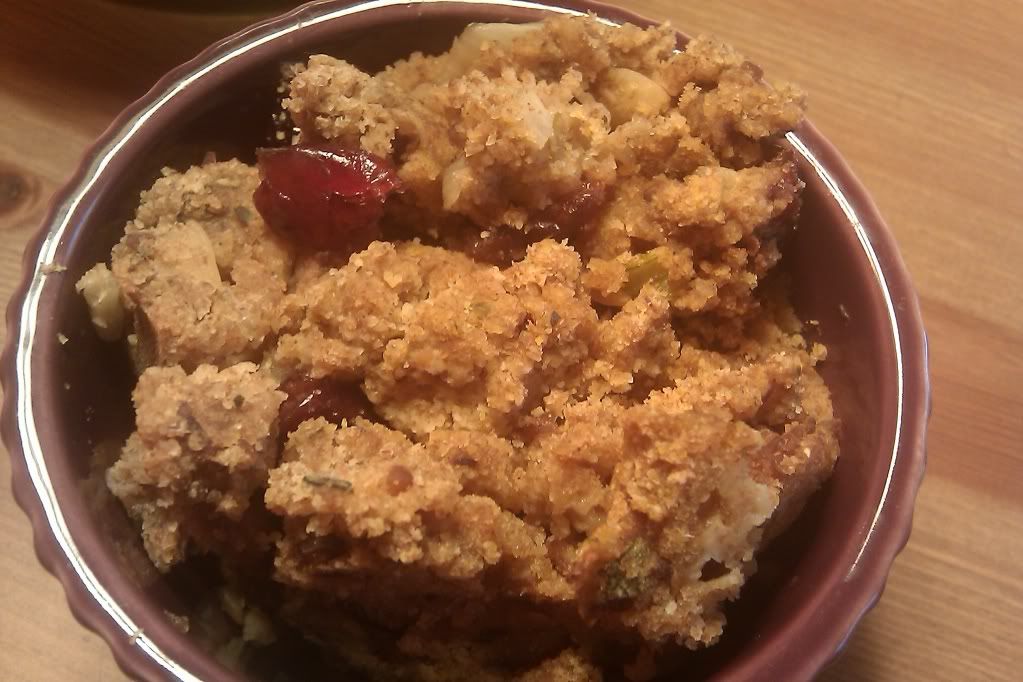 The cornbread stuffing is a
Mama Pea
recipe. I used her Cowgirl Cornbread (from the book!) recipe as the basis for the stuffing and omitted the mushrooms. This dish was really savory and flavorful, and the dried cranberries added a nice tart, sweetness.
Ingredients
(6-8 servings)
1/2 of a large onion, chopped
1 c. portabella or crimini mushrooms, chopped
1 t. minced garlic
6 oz. package of Lightlife Smoky Tempeh Strips, prepared according to package directions or 1 batch homemade Tempeh Bacon, chopped into bite-size pieces
5 sage leaves, chopped
1 1/2 t. poultry seasoning
6 c. cornbread (i.e. Cowgirl Cornbread), cut into 2-inch cubes
1 c. dried cherries or cranberries (unsweetened, if possible)
2-3 c. low sodium vegetable stock
salt and pepper to taste
Instructions
Preheat oven to 350 degrees.
Place a large skillet spritzed with oil or cooking spray over medium high heat. Add onion and mushroom and sauté 4 or 5 minutes or until softened and starting to brown.
Add chopped bacon to pan and continue to cook until heated through.
Add garlic, sage and poultry seasoning and continue to cook for an additional minute or until aromatic.
Cube your cornbread and place it in a large bowl.
Add cherries or cranberries to the cornbread.
Continue to add tempeh bacon mixture to the bowl.
Pour in vegetable stock a little at a time and stir until fully moistened. Add salt and pepper to taste.
Pour dressing into a 1-quart baking dish that has been lightly greased.
Bake for 30-35 minutes, until dressing is firm and browned.
An excellent neck warmer.
Squirt!
Ozzy in the recycling bin.
How did you spend your Thanksgiving? What's your favorite part? And are you crazy enough to brave Black Friday shopping? I, obviously, am not. :)