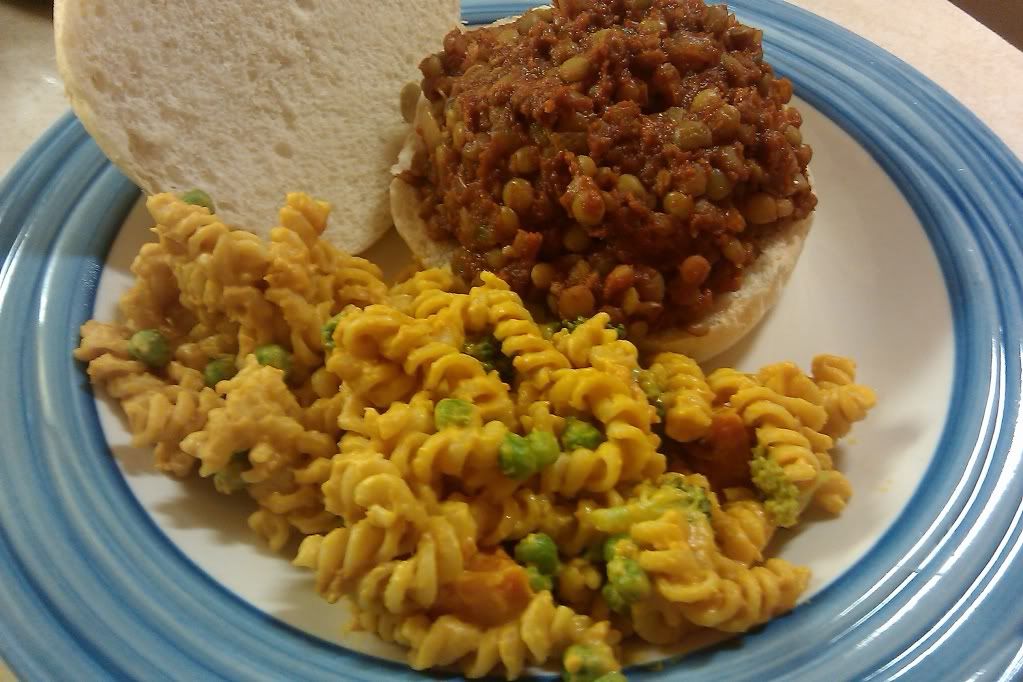 The more I eat butternut squash, the more I love it. In fact... I fear in may be edging out sweet potatoes as one of my favorite foods. When I saw this ah-mazing recipe on
Oh She Glows
, I knew I had to try it. It was so delicious and yummy; it was tough convincing myself to not eat it alone for dinner. So I paired it with some sloppy joes from Veganomicon.
Butternut Squash Mac 'n Cheeze (Vegan with Gluten-free & Nut-Free options)
Yield: 4 servings or 1.5 cups of cheeze sauce
Ingredients:
1 fresh butternut squash* (peeled and chopped) OR 1 cup canned butternut squash OR canned pumpkin
Extra virgin olive oil, S & P
1 tbsp Earth Balance (or other non-dairy butter replacer)
3/4 cup

unsweetened & unflavoured

almond milk (revised from 1 cup)
1 tbsp arrowroot powder (or cornstarch)
6 tbsp nutritional yeast, or more to taste
2 tsp Dijon mustard
1/4 tsp garlic powder
1/2-3/4 tsp kosher salt (or to taste) & ground black pepper, to taste
4 servings brown rice macaroni (8oz or half a 16oz package) makes 3 1/4 cup cooked
Mix-ins of choice (e.g., kale, spinach, broccoli, peas, pumpkin seeds, etc)
1. Preheat oven to 425F. Line a casserole dish with tin foil. Mix chopped squash with EVOO, S & P. Roast for about 40 minutes, uncovered, or until tender.
2. Meanwhile, prepare the cheeze sauce in a pot on the stove top. Add Earth balance over low-medium heat. In a bowl, whisk together milk and arrowroot powder (or cornstarch or flour) until clumps are gone. Add into pot and whisk. Stir in remaining ingredients (nutritional yeast, Dijon, garlic, S & P) and whisk over low heat until thickened (about 5-7 minutes or so).
3. Cook your pasta according to package directions. The sauce makes enough to cover 4 servings of pasta.
4. In a blender, blend the sauce with
1 cup
of roasted squash (or if using canned, simply stir 1 cup into the pot).
5. Add cooked, drained, and rinsed macaroni into pot, along with cheeze sauce & mix-ins. Heat and serve.