This past weekend was full of visitors! Mandi came to visit because she had to attend an art museum for her art class. When she initially asked, I begrudgingly obliged: art museums really aren't my thing, but of course I'd go with her. And then, by chance, I drove past the American Visionary Art Museum down between Locust Point and Federal Hill. After checking out the
website
, we both decided that place looked perfect!
We got lunch at Sticky Rice beforehand, yum! That place has great food, but I wish they had better service. There was basically one girl, who appeared to be in training, waiting on six or seven tables, while two other employees just sat on their asses...
Veggie Tempura Plate.
The customers on either side of us were all about
the veggie tempura, watching me and asking me multiple questions
while eating. So weird.
Tofu Lettuce Wraps.
Good, but mine are better. ;]
Anyway. You can't take pictures inside the museum. I debated breaking the rules, but I think a security person there could read minds, because he followed me through several rooms. The exhibit was All Things Round and the art work was so neat! A lot of the art on display was created by people with either disabilities or mental illnesses. Two of my favorites were the Bra Ball (some 18,000 bras put together to form a massive ball of bras) and this really colorful, intricate piece made out of only paper plates. It was amazing. We took a few outside of the museum.
Actually, we took two inside.
So shoot us.
We're just so beautiful.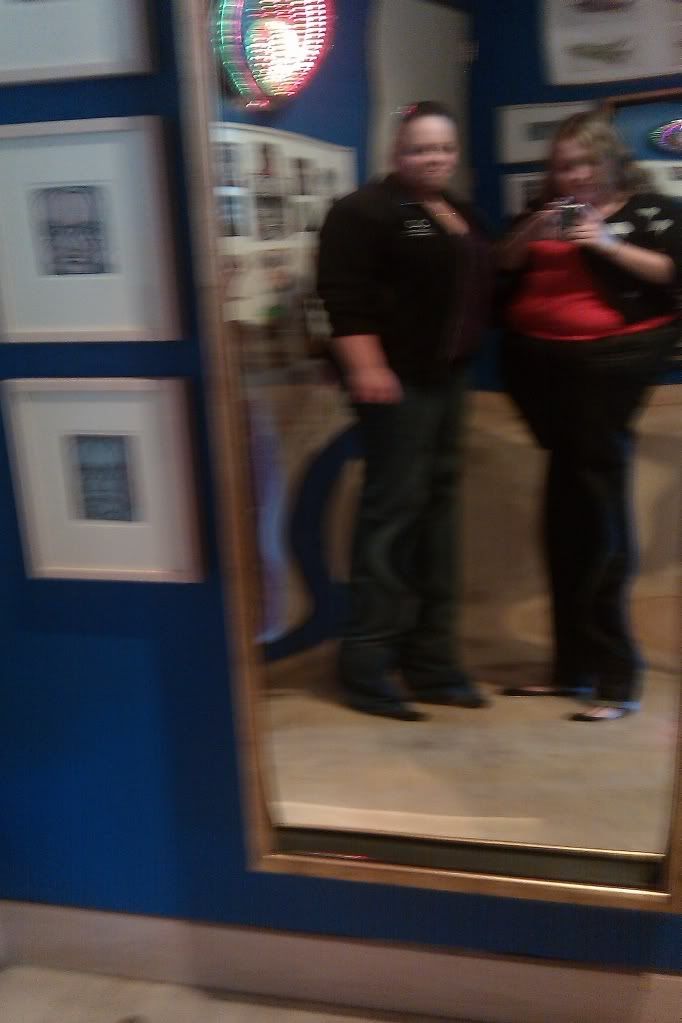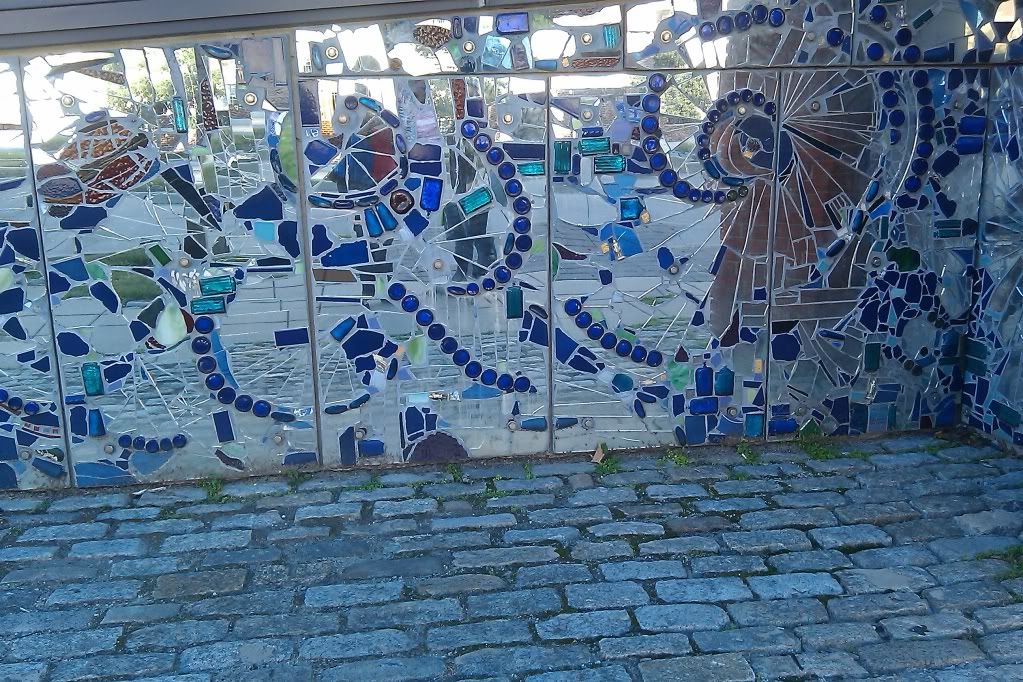 I love mosaics!
Can you spot us?
When we got back to the house, my brother was there! With his two kittens.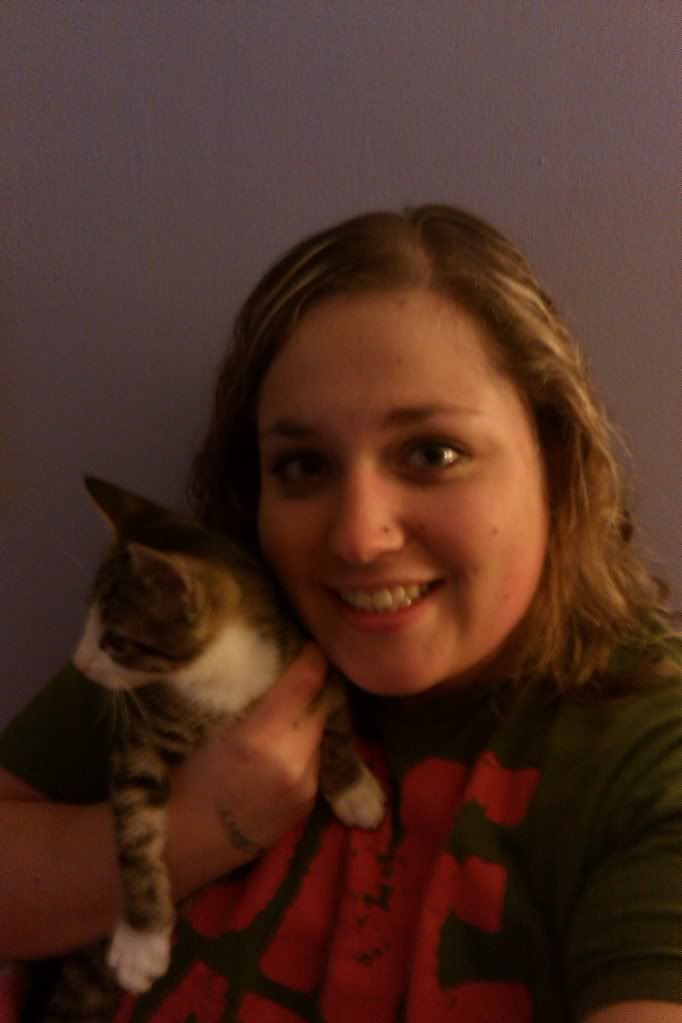 Squirt.
Ozzy snacking on my fingers!
Mandi and I ended up "cat-sitting" that night.
Squirt, again.
And wow, was it crazy. They were all over the place, biting things (and people!) and jumping on everything they weren't supposed to. They also really enjoy chewing on my glasses, laptop, and hair. So cute, but so, so bad! I actually thought about giving them some Benadryl... I draw the line at fighting on my back at 3AM while I'm trying to sleep!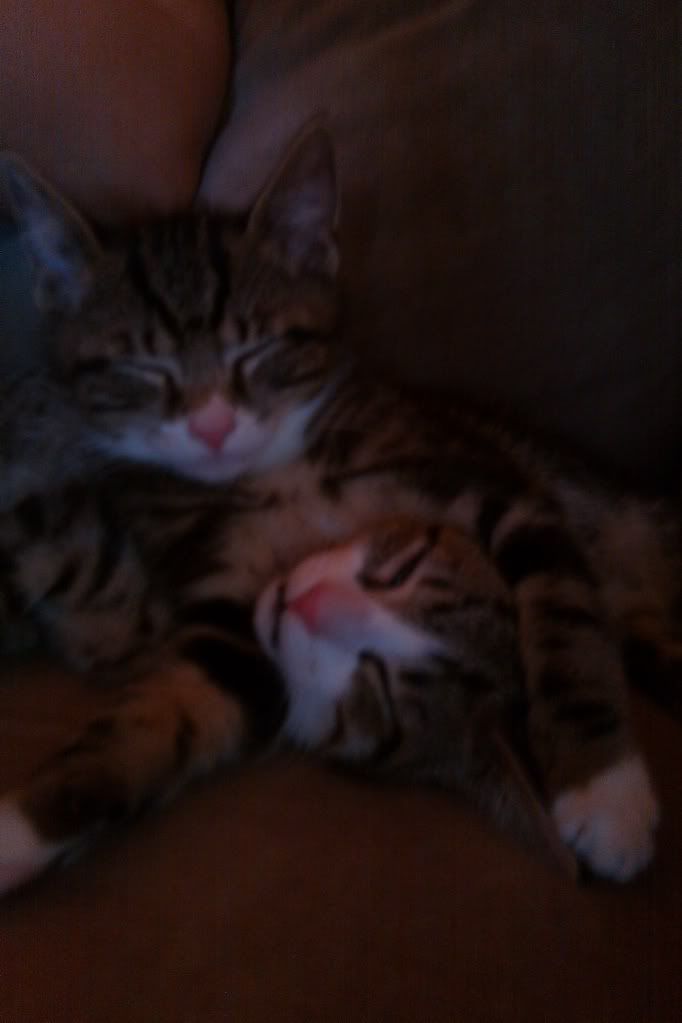 You can't be mad when they're being all
sorts of adorable, though.
And, if you're thinking to yourself, "She's posting in the middle of the day. Is she home?" The answer is yes. As of last night, I decided I needed at least another day to recuperate. My wonderful and amazing friend Jen stopped by to drop off some goodies for me, and I ventured down to the living room for her visit. I know, I'm doing big things. Really, I just didn't want to expose her to the disaster I call my bedroom. Before bed last night, I took off my ace bandage because I wasn't sure how much it was helping.
Big mistake. I'm really paying for it now, and I'm grateful I had already decided to stay home today. So it is now wrapped, elevated, and on ice. Praying it is well enough for work tomorrow.
My sweet little babies from school made this.
I can almost envision them,"Sometimes we don't cooperate with you,
sometimes we make you crazy,
and sometimes we even hit or spit on you,
but we miss you."
Jen got a card (with dogs on the front! The very cause of this
predicament!) and made some of my favorite chickpea salad,
This is amazing because I can't even stand
long enough to make toast.
Thank you SO much, Jen!