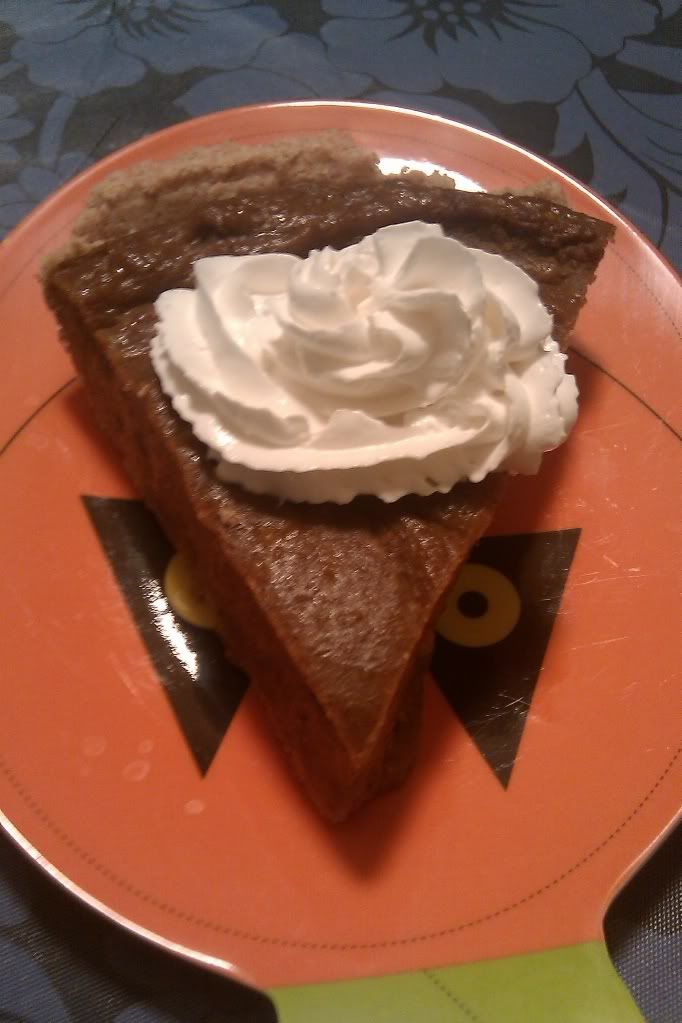 Pumpkin pie is the quintessential Thanksgiving dessert, amirite? I tried my first vegan pumpkin pie last year. I can't remember what recipe I used, but I DO remember that it was a big flop. The pie wouldn't set. When
Mama Pea
, who has never once led me astray, posted a recipe for pumpkin pie, I thought I'd give it a go. And this pie turned out wonderfully! I punked out and used a Wholly Wholesome crust, but I don't care because it was delicious. My only advice is to watch the condensed milk super closely! The line between condensed milk and gelatinous blob is very fine... and you don't want to cross it.
Ingredients
(1 9-in. pie)
For the Crust:
1 1/2 c. whole wheat pastry flour
1 t. baking powder
1/2 t. salt
1/4 c. vegan margarine (i.e. Earth Balance) or coconut oil
1/4 c. maple syrup
1 t. vanilla
2-4 T. cold water
For the Filling:
1 c. non-dairy or organic milk, divided
1/2 c. brown sugar
3 T. cornstarch
2 c. canned pumpkin
1 T. ground flax
1 t. molasses
1 t. vanilla
2 t. cinnamon
1/2 t. salt
1/2 t. ginger
1/2 t. nutmeg
Garnish: non-dairy or organic whipped topping and pumpkin pie spice (optional)
Instructions
For crust, in a large bowl, combine flour, baking powder and salt.
Cut in margarine or coconut oil until flour mixture is the texture of wet sand. You can also shortcut this process by using a food processor to blend your flour and fat together. Grandma didn't. I do.
In a liquid measuring cup, combine maple syrup, vanilla and 2 tablespoons of water. Pour mixture into flour.
Stir until a dough starts to form. If the dough seems to dry, you can add another tablespoon or two of water.
Transfer dough onto a sheet of plastic wrap and wrap up dough, pressing into a disc.
Put dough into the fridge to chill for at least an hour.
Meanwhile, make the filling by bringing 3/4 c. milk and brown sugar to a boil in a medium saucepan over medium high heat.
Once it has come to a boil, lower heat. Put cornstarch in a small bowl or in your liquid measuring cup. Add remaining milk and stir until completely smooth.
Add cornstarch mixture to the pot, stirring rapidly.
Bring the mixture back to a low boil until it is quite thick.
Remove from heat.
In a large bowl, combine pumpkin, ground flax, molasses, vanilla, cinnamon, salt, ginger and nutmeg.
Add sweetened, condensed milk and stir until completely incorporated.
Set aside.
When dough has chilled, preheat oven to 350 degrees.
Dust a bread board with flour and turn dough out onto board.
Roll dough out gently with a floured pin until it is about a quarter inch thick and about 12 inches in diameter.
Transfer your dough to the pie plate by rolling up the edge on your rolling pin and then unrolling your pin on top of your pie plate. Or you can invert your bread board completely on top of your pie plate.
Then press your dough into your plate and crimp the edge of your pie.
Using the tines of a fork, poke holes in the bottom of your pie crust.
Pour your prepared pumpkin filling into your pie shell and spread evenly to distribute.
Bake for 45-50 minutes, until pie is set. If you have a pie shield, you'll want to place it over the crust after about 20 minutes. If you don't have a pie shield, you can make one out of tin foil, but essentially this will keep your crust from getting too dark.
When the pie is cool, cover and refrigerate, preferably overnight.