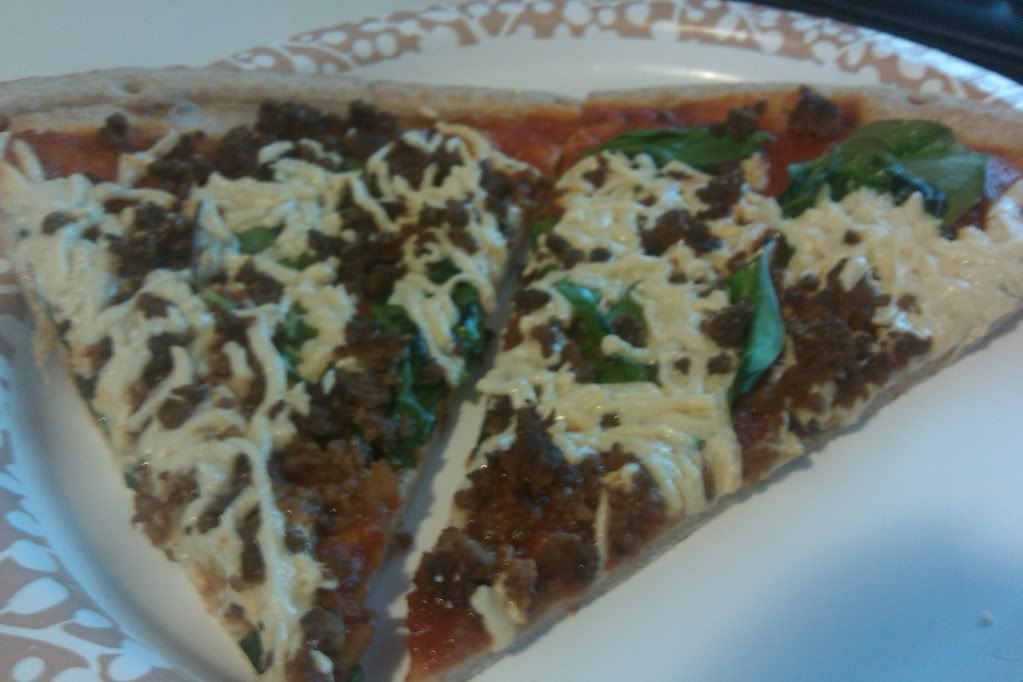 Last night, I had a bunch of things on my "I need to use this up ASAP" list: some Life Light Smart Ground Original, Daiya mozzarella, and a pizza crust. The obvious solution? Pizza! Largely inspired by my favorite pizza at a shop in Philly, I came up with this.
You'll need:
- 1 pizza crust
- pizza sauce (I tend to use regular marinara sauce, though; Trader Joe's is the best!)
- baby spinach
- Daiya cheese
- Light Life Smart Ground Original
- garlic powder, onion powder, basil, oregano to taste
- dash of sea salt
1. Spray a medium skillet with non-stick spray. Add the Smart Ground; heat through. Season to taste with onion powder, garlic powder, basil, and oregano.
2. Lightly brush pizza crush with olive oil.
3. Spoon sauce over crust.
4. Top with spinach, then Smart Ground, then Daiya. Add more Smart Ground if you want.
5. Sprinkle a tiiiny bit of sea salt on top.
6. Bake according to pizza crust's instructions.