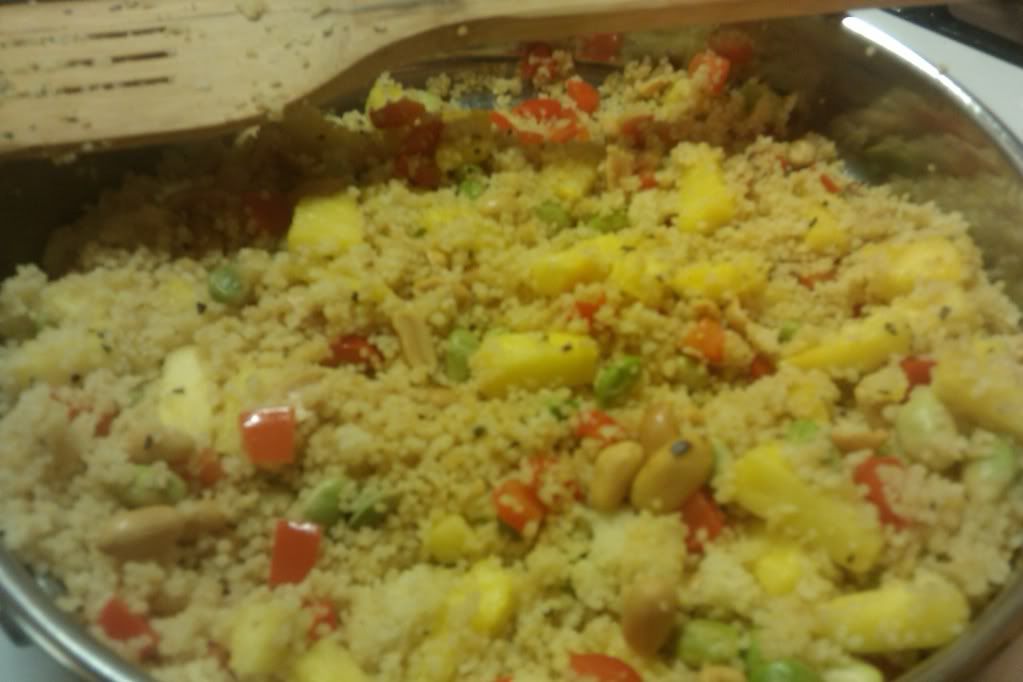 While I was in New Orleans, my friend Krista made this amazing and yummy salad for lunch one day. It combines a lot of foods I love, and not long after my return to Charm City, I found myself craving this. I didn't have a recipe, because I think Krista also just sort of made it up, so here's my best "just wing it" attempt to make a recipe.
- 2 C cooked quinoa (although I used couscous because I was out of quinoa [!!])
- 1/2 C diced pineapple (fresh or canned, I prefer fresh)
- 1/2 C frozen edamame
- 1 medium red pepper, diced
- 1/4 C nuts (peanut or cashew; I prefer cashew, but only had peanuts on hand)
- dash of soy sauce
- olive oil
1. Prepare quinoa.
2. In large skillet, heat olive oil. Add red pepper and cook for 3-4 minutes. Add edamame. Cook for another 3-4 minutes until edamame is cooked.
3. Stir in pineapple and quinoa. Add soy sauce to taste.
4. Stir in nuts.
This is so easy to make, and makes a great lunch. You can easily adjust it to suit your tastes. Krista added fresh mint and basil to this salad when she made it, and that was yummy, too! If you make any tweaks to this recipe, I'd love to hear what you tried and liked!